Editor
---------------------------------------------------------------------------------------
ISSN: 2148-178X  Publisher: Burhan Durgun
Welcome to Journal of Social Research and Behavioral Sciences (SADAB) that started publication in 2015, as a scientific journal has dedicated to advancing knowledge and research. 
You can send your articles to the email address below for the November-December issue of our journal.
Email: editorsadab@gmail.com
Hakkımızda
ISSN: 2148-178X  Yayın Aralığı: Yılda 2 Sayı Yayıncı: Burhan Durgun
Başlangıç Yılı: 2015
Sosyal Araştırmalar ve Davranış Bilimleri Dergisi, 2015 yılından itibaren yayına başlayan bilimsel hakemli bir dergidir.
Dergimizin Kasım-Aralık sayısı için makalelerinizi aşağıdaki e-posta adresine gönderebilirsiniz.
E-posta: editorsadab@gmail.com

Recent Issue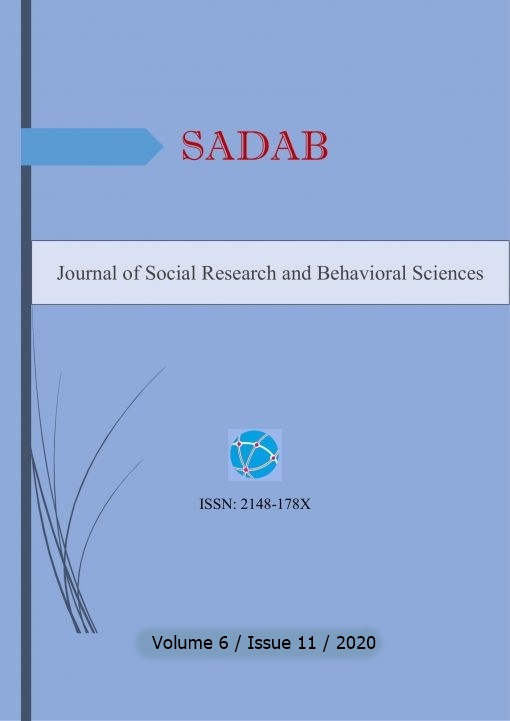 The Development and Validation Process of a Qaulity Assurance Framework: A Case of Ibrahim Badamasi Babangida University, Lapai, Nigeria
M.T. Mustapha Ph.D.


English Language Learning in the Framework of Three Dimensional (3D) Approach:Linear?, Areal?, or Spherical?
Assoc. Prof. Dr. Kenan Kapukaya


Örgüt İklimi ile Örgütsel Sessizlik Arasındaki İlişki
Havva Tatar
Ahmet Ayık


Teachers' Training and Implementation of Inclusive Education in Calabar Municipality of Cross River State, Nigeria
Orim Okpa Orim
Professor (Mrs.) A. E. O. Esu


Universities as Special Organisations: An Overview of Their Role in Value and Cultural Transmission in Today's Context
Chigozie Nnebedum